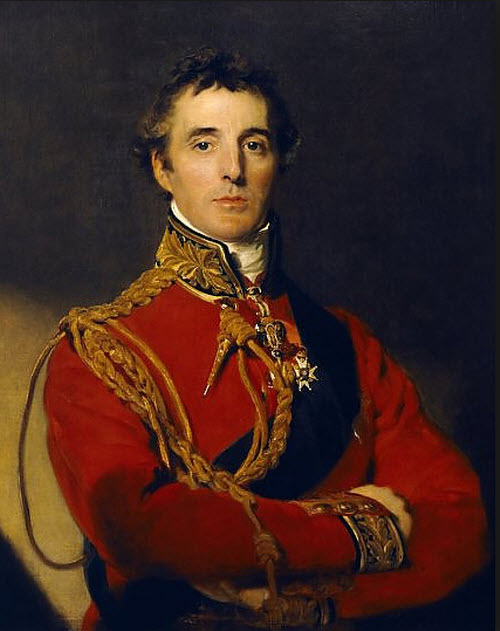 Wellington: The Iron Duke
The Duke of Wellington, affectionately nicknamed the Iron Duke by his troops, was Britain's greatest general during the Napoleonic wars. As commander of British forces, he waged a war of attrition against the French in the Peninsular War, eventually driving them from Spain. And he was in supreme command of allied forces at the decisive battle of Waterloo, which ended Napoleon's career. Revered as the savior or Britain and the conqueror of Napoleon, Wellington translated his fame into a personal fortune which included a royal title, a substantial government pension, and political power - serving twice as prime minister.
Arthur Wellesley Wellington, was born May 1, 1769, at Dangan castle, Ireland. He was the third son of Garrett, first earl of Mornington, and brother of the Marquis Wellesley (q.v.).
As a young man he was sent to a military college in Angers, France and he completed his military education just before the French Revolution. It is one of the strange ironies of history that Napoleon's greatest foe had been educated in military strategy and tactics at a French military academy.
Wellington was soon called upon to put his training to use, as Europe was plunged into war as a result of the Revolution. He joined the British army with the rank of ensign in 1787, and had been promoted to Lieutenant Colonel by 1787 when he was just 18 years old. The next year, in 1794, Wellington assumed his first command, leading 3 battalions covering the retreat of the British army through Holland. It was there that Wellington first distinguished himself by repulsing several attacks by the French revolutionary forces.
In 1796 Wellington accompanied his regiment to India, where his brother, the marquis Wellesley, shortly afterward arrived as governor-general. In India, Wellington served in several campaigns against local Indian kingdoms, and he distinguished himself in the capture of the city of Mysore and by defeating a powerful Indian army under Tipoo Sultan, as well as the Mahratta war of 1803. In a remarkable but now little known battle, Wellington attacked and defeated an Indian army almost ten times his size. With only about 4,500 troops at his disposal, Wellington attacked and defeated a Mahratta Indian army consisting of over 50,000 troops. These victories ensured British supremacy over all of England and won Wellington fame and fortune at home.
In 1805 Wellington returned to England. The Napoleonic wars had been raging for years, but so far Wellington had taken no part in the European conflict. In November 1805, Wellington was sent as part of a British expedition to the German state of Hanover. But the next year he returned to England and obtained a seat in the House of Commons. In 1807 the government appointed him Chief Secretary of Ireland. Since Ireland was a primarily Catholic country occupied by the despised British, Wellington's role was not just administrative; he was a representative of the occupying forces and tasked with keeping order.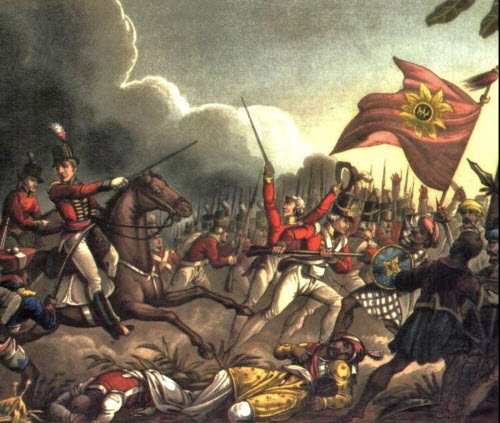 Wellington in India
However his skills were soon needed elsewhere and in 1807 he held a command in the British expedition against Copenhagen; Denmark then being an ally of Napoleon. The campaign was successful and Wellington negotiated the capitulation of Copenhagen; on his return to England he received the thanks of the house of commons and then resumed his command in Ireland.
The next year, 1808, Wellington was called upon to command an expeditionary force sent to Spain and Portugal with the objective of driving out the French occupying forces. He participated in many battles against the French, not all of them successful and eventually was granted supreme command of the Peninsular Army. Wellington now faced his first real test.
In April 1809, a large veteran French army under the command of Soult and Victor had entered Portugal and had already occupied the north, as well as the city of Oporto. Wellington boldly counter-attacked and executed a difficult river crossing to enter Oporto, driving the French back who regrouped in a defensive position to await reinforcements. The ensuing battle of Talavera was marked by great slaughter on both sides, as the French and British fought hand to hand. The French were defeated but Wellington was not able to follow up his victory and the defeated French were able to withdraw because the rebel Spanish army, allied with the British, refused to cooperate and did not engage the French. Nonetheless it was a signal victory for the British and Wellington was showered with accolades. Parliament vote their thanks and he was created a peer with the titles of Baron Douro of Wellesley and Viscount Wellington of Talavera, with a pension of £2,000.