---
She is said frequently to have indulged in this play of divination. Her husband was known, in the beginning of the revolution, as an advocate of constitutional principles, and his standing, as well as the benevolence of his wife, naturally made their house a kind of asylum for the unfortunate. Mlle. De Bethisy, condemned by the revolutionary tribunal, owed her life to the courageous intercession of Madame De Beauharnais. But the fury of terrorism increased, and her husband, who had valiantly defended France at the head of its armies, was thrown into prison, and executed. She was also included in the list of proscription; but the death of her husband reduced her to such a state that she could not be removed, and to this circumstance she owed her escape from execution. Robespierre at length perished, and the viscountess was delivered from prison by Tallien, who was never forgotten by her, nor by Eugene, from whom he received a considerable pension till his death. Josephine was indebted to Barras for the restoration of a part of the property of her husband, and at his house, after the 13th Vendemiaire, she met general Bonaparte, who had previously taken an interest in her for the following reason: The disarming of the citizens having been decreed, a boy of fifteen years presented himself to Bonaparte, and with great earnestness demanded the sword of his father.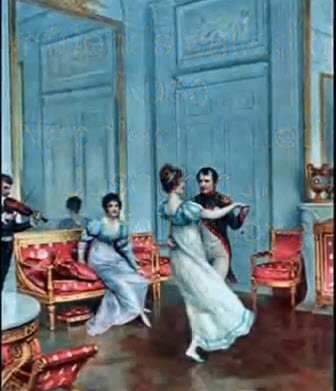 Josephine and Napoleon
The boy was Eugene; and Bonaparte, touched by his filial zeal, was desirous to become acquainted with his mother, to whom he immediately became attached. He married her in 1796, and never ceased to have the greatest esteem for her. She followed Napoleon of Italy, and her whole life was now intimately connected with that of Napoleon, at whose side she stood, like a good genius. She had considerable influence over him, and his letters to her are proofs of her amiable character, and of his warm attachment to her. She was always benevolent, and accessible to any who sought protection or mercy from Napoleon through her. The comparison which Napoleon drew, at St Helena, between the two empresses, as recorded in Las Cases' Memorial, is honourable to both. Bourrienne tells us, that some shameful calumnies rendered general Bonaparte jealous while in Egypt, but that, soon after his return, every thing was adjusted. Josephine used her influence in favour of many emigrants, encouraged arts and industry, and protected the humblest artists whom she found worthy. " If I," said Napoleon, "win battles, you win hearts;" and it certainly seems as if Napoleon could not have found a woman who united all the qualities of heart and mind, which would fit her for the companion of his career, in a greater degree than Josephine. Polignac and Riviere owed their lives to her. Her court was no less admired in France than she herself was beloved. She loved pomp.
Josephine's Downfall - Divorce from Napoleon
When Napoleon ascended the throne, a divorce was proposed, but the emperor rejected the proposition. Josephine was crowned at Paris and at Milan. When Napoleon became desirous of marrying a princess, for political advantage and in the hopes that a new wife would bear him a son who could inherit his father's throne, she felt it deeply, yet she had firmness enough to consent to what he thought best for France and for himself. She retired to her beautiful seat of Malmaison, with the title imperatrice-reine-douairiere (empress-queen-dowager), where the respect and the love of all the. France followed her, who was called l'etoile de Napoleon. She was doomed to see the destruction of that throne on which she had once sat. The emperor Alexander and the king of Prussia, but particularly the former, showed their respect for her virtues by repeated visits to Malmaison; but the fate of Napoleon undermined her strength, and, having exposed herself while in a feeble state of health, by walking with Alexander, she took a cold, and died in the arms of her children, May 29, 1814. Her last words were "L'ile d'Elbe! -- Napoleon!"
Her body was deposited in the church of Ruel, and was followed by a numerous procession, in which the emperor Alexander was represented by general Sacken. Seven years afterwards, her children received permission to erect a monument to her, who had so long been called the guardian angel of France. Josephine was handsome; her figure was elegant and majestic; but her greatest charms were her grace and goodness of heart. The Memoires Historiques et Secrets de l'Imperatrice Josephine (2 vols., published in November, 1820, by the famous Parisian sibyl, Mlle. Le Normand) contain many interesting, though unauthenticated anecdotes, respecting the life of this remarkable woman.